Welcome to the
Route 30 Detour
! US Route 30 intersects at I-95 in Philadelphia and goes from coast to coast, including passing through Pittsburgh and the home of Drexel University SMT student and blog contributor, Bryan Fyalkowski (@fyalkowski)...
Happy 4th of July, yinz! What else would I talk about today other than America's pastime?
Like you even write about anything else. Joke.
Bud Selig has done some questionable things during his time as MLB commissioner, such as making the All-Star Game determine home-field advantage in the World Series and turning his back on the HGH epidemic of the late 90s/early 00s. But all and all, he has done some great things — well, at least enough to
not get booed
at his own league's draft.
"And the Houston Astros take... some guy!"
In addition to interleague play and the introduction of the Arizona Diamondbacks and Tampa Bay (Devil) Rays, Selig helped institute
revenue sharing
in the MLB. New to the five-year CBA formed in 2006, all 30 teams would put 1/3 of their total revenue to a common pool, which was then split evenly between the teams. According to documents leaked to the AP in 2010, each team received $30-35 million per year from 2006-07 in this revenue sharing system, with more than $300 million being transferred from high-revenue to low-revenue teams per year.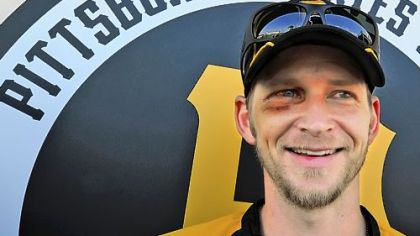 Also AJ Burnett :).
Over the past few years, low-revenue teams like the Rays, Cincinnati Reds and, quite recently, Pittsburgh Pirates have been able to compete very well with the rest of baseball. There seemed to be no specific reason for this, until now. In
a quote
taken earlier this week from Selig, he basically takes credit for this phenomenon. The commissioner claims that "this couldn't happen" in the late 90s and the Pirates' success this year is "a manifestation of all the economic changes" in recent years.
While it may be true that revenue sharing has allowed teams a better opportunity to compete, compared to the 90s when the Atlanta Braves and New York Yankees dominated the entire MLB, I find it inappropriate for Selig to make such comments at this time. This is not the time to toot your own horn, just let this parody happen and brag about your accomplishments when you are up for a contract renewal.
Because $22 million per year might not be good enough.
The
current CBA
, that was signed in November 2011 and went into effect this season, calls for one specific term that hurts low-revenue teams: capping the spending amount on draft picks. Now, each team has a predetermined amount which they can spend on bonuses given to all of their picks; the most for the No. 1 slot and the least for No. 30. If a team goes over the amount, they are penalized in money and in future draft picks.
This helps low-revenue teams because they will save money on first round players, but it hurts them because they will not be able to throw bonuses at high-risk, high-reward players in later rounds. Teams like the Pirates and Rays would do this in order to entice players to skip college and go directly into the pros in order to build depth in their minor league system. But now they will need to find other ways to do this.
Saber-WHAT?!
Also, these comments are unfair to the general manager of the Pirates, Neal Huntington, manager Clint Hurdle and his coaching staff and the players who have played their hearts out this season to exceed expectations and put themselves in the thick of things in the National League, now halfway through the season. No matter what the reason is, Pirates fans have very much to be thankful for right now, Bud Selig or otherwise.
#DREWSUTTON
Enjoy your trip back to I-95 and I'll see you next week!