That's the word that comes to mind what I think of St. Louis Rams running back Steven Jackson. On Tuesday, Jackson told Pro Football Talk Live that he wanted to retire as a member of the St. Louis Rams and was working on a contract to fulfill his desires.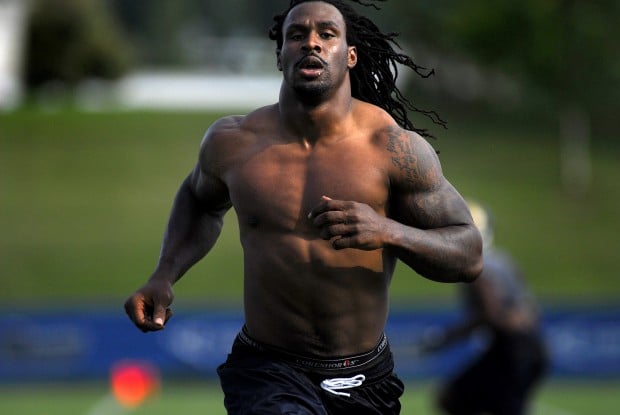 Throughout the 8 year career of the now 29 year old, Jackson has been nothing short of a workhorse running back in every sense of the word. The 6'2" 241 lb. Jackson has averaged over 265 carries per year with 7 straight 1000 yard seasons (only season he did not reach 1000 yards was his 2004 rookie campaign). The big bodied Jackson has also been a viable threat in the passing game averaging over 45 catches throughout his career. Currently the active leader in career rushing yards with almost 9100 yards, Jackson is a physical specimen to be reckoned with. At the 2004 NFL Draft Combine, he ran consistently in the 4.5s in the 40 yard dash not to mention scoring a respectable 28 on the Wonderlic test.
When Steven Jackson was drafted by the Rams with the 24th pick in the 2004 NFL Draft, the team was on the backend of their days as the "Greatest Show on Turf". Since then, the team has languished. Jackson has been the piece holding the team together throughout. Constantly playing hurt for the good of the team, Jackson couldn't care less if the team was 3-13 or 8-8; he was playing football. Playing through injury has been a consistent piece of Jackson's career, showing the colors for a true team player each and every year.
Since baseball guys like Curt Flood, Andy Messersmith, and Dave McNally made free agency the cool thing to do since the 1970s, athletes in all leagues have not been shy to use their power to move anywhere and everywhere. Free agency does not discriminate against league either. Recently the NBA has been seen as giving free agency a bad name with guys like LeBron James making their decisions into a public spectacle all while attempting to align the star power among a handful of teams. Some people see it as selling out. Some people see it as athletes just trying to better their career and chances of winning. Free agency is one of the reasons that the NFL has been dubbed "Not For Long".
With the vast majority of professional athletes making a uniform change at one point or another during their career, there is something to be said about guys that decide to stick out their careers with the organization it all began with. It seems to be almost admirable. Current athletes like Derek Jeter, Kobe Bryant (I know he was a draft day trade from the Hornets), and Mariano Rivera come to mind as guys that have stuck it out with their original teams. Those guys are all-time greats in their respective sports. Steven Jackson is a guy that has a chance to be among them.
It would have been easy for Steven Jackson to demand a trade or hold out or simply not sign an extension. Instead, he saw his work through and now he wants to continue seeing it through until the end. Coming up on the dreaded running back age of 30 years old, Jackson already has the mileage on him of a 1967 Chevy pickup truck. There is something truly admirable about what Jackson has done. Throughout his career he has laid it on the line every season, every game, every down through injury and atrocious Rams teams of the late 2000s. He has done it all without ever needing to be the highest paid running back in the NFL. He has done it all with minimum complaint, no hold outs, and no arrests (In 2010 he was accused of domestic assault however the accusations came 10 months after the fact, Jackson was never charged, and he issued his own personal statement to meet the allegations head on). Most of all he has done it all with the respect, integrity, and character that our ideal view of athletes outlines.
Let Steven Jackson serve as an example to all aspiring professional athletes. When faced with a losing team or a contract dispute, don't make a public spectacle of the situation (and for the love of God do not pull a Dwight Howard). When Coach continues to call halfback dives straight into the A gap on the goal line, continue to put your head down and do the job that lies ahead. When faced with adversity, meet it head on. Own up to mistakes and admit guilt. If faced with a rocky stretch either on or off the field, use Steven Jackson's actions as guidance. Steven Jackson is a true professional and that is something to respect.