Ross Tucker, a former NFLer, discusses
signing autographs at training camp
and shares his views from when he was a fan to when he was a player.
US Women's soccer goalie Hope Solo takes to twitter to
criticize former teammate
Brandi Chastain.
Swiss soccer player Michel Morganella was
expelled from the Olympic team
for racist tweeting.
Be careful what you tweet! 17-year-old boy
arrested for tweeting
malicious comments at British diver Tom Daley.
Ex-Bengals cheerleader speaks out against claims that she is the "
female Jerry Sandusky.
"
Sports Business Journal's cartoon regarding
replacement NFL refs
.
Twitter suspends the account of
Guy Adams
after he bashes NBC's coverage. NBC said it was Twitter. Twitter said it was a complaint. Days later his account is unsuspended. Hmmm.
Pete Thamel
is leaving New York Times for a gig at Sports Illustrated.
Doug Gottlieb
is leaving ESPN to join CBS Sports.
Giants tight end Martellus Bennett gave some interesting responses during an interview that included quotes such as, "
I'm kind of like a black unicorn
" and "Eli knows if he wants chicken or steak."
A
hacker targets MLB
social media accounts and posts inappropriate messages
(#FirstWorldProblems)
.
Sportsbiz Stat of the Week:
The Cleveland Browns were sold to Jimmy Haslam for $1 billion.
Video Of The Week:
Everybody loves a little John Daly.
Photo Captions: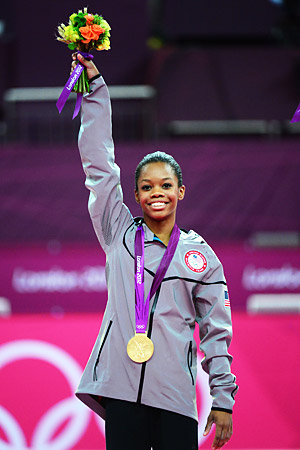 Submit your favorite captions for this photo of Gabby Douglas in the comments below! Best ones will be tweeted from @I95_SportsBiz.