Welcome to the Route 30 Detour! US Route 30 intersects at I-95 in Philadelphia and goes from coast to coast, including passing through Pittsburgh and the home of Drexel University SMT student and blog contributor, Bryan Fyalkowski (@fyalkowski)...
Have you heard the name "Penske Racing" in sports news a lot recently? If you have, it has been for a handful of reasons. Right before the Coke Zero 400 on July 7, AJ Allmendinger, driver of the No. 22 car for Penske, was suspended indefinitely by NASCAR for failing a drug test. The results have been disputed because Allmendinger claims the positive test for amphetamines was due to a prescription Aderall that he had taken one time.
Good call on this being illegal in sports.
Over the past few years, Penske has been the most dynamic of all NASCAR teams in trying to decide what is best for its product the track. Kurt Busch was the premier driver for Penske from 2005-10 with moderate success. He was replaced in the No. 2 car by up-and-comer Brad Keselowski before the 2011 season, when Busch drove the secondary No. 22 car before he was fired from Penske due to his hotheadedness on and off the track.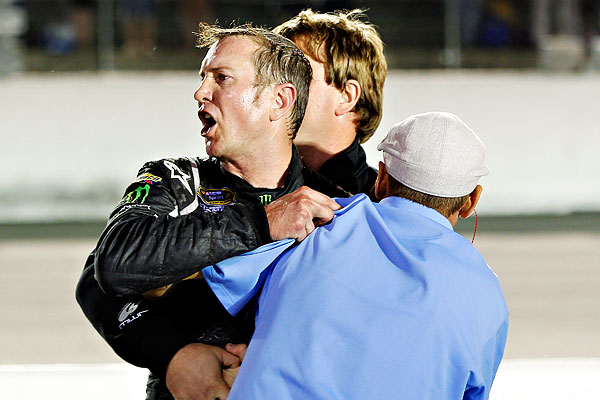 "HOLD ME BACK. HOLD ME BACK."
Allmendinger replaced Busch in the No. 22 car in 2012, but with his positive drug test he is now participating in NASCAR's Road to Recovery program. Meanwhile, Keselowski used a caution at the Daytona 500 to completely revolutionize Twitter for the entire sport. Most importantly, there have been fundamental changes to the very core of the team that will force Penske to adjust to a new brand of car beginning in 2013.
For the 2013 Sprint Cup Series season, NASCAR devised a plan to redesign the cars so that they look more like what the manufacturers would sell on the lot. The primary goal of this change is to make the manufacturers' sponsorships with NASCAR more realistic and connectable to the fans. Just this past week, the new designs of the Chevrolet SS, Ford Fusion, Toyota Camry and Dodge Charger were approved by NASCAR.
Just a shame that beautiful Charger won't be on the track in 2013.
However, with the news in March that Penske would switch from Dodge to Ford in 2013, Dodge would be left without a Sprint Cup Series team in 2013. Dodge had returned to NASCAR in 2001 after a 24-year hiatus from the sport, but as of 2012 their only affiliation with a team was Penske. The two sides' 10-year contract expires after the 2012 season and, as Roger Penske claimed, the team's best business decision was to switch to Ford beginning in 2013.
There were rumors that Andretti Autosports, a premier racing team in the Izod IndyCar Series, was considering fielding a NASCAR team in 2013, but nothing has materialized to this point. It was probably Dodge's only chance to stay alive in NASCAR and on August 8, the car manufacturer announced it would depart from NASCAR completely at the end of the 2012 season.
Where did all the cars go?
ESPN's Marty Smith broke the story on Tuesday from head of the Dodge Motorsports program, Ralph Gilles. Smith had some very interesting quotes from Gilles and that it was a very difficult decision based not only on money. Gilles told Smith that it was not primarily about ROI and hinted that Dodge's reputation might take a hit if it fielded cars with drivers that raced below par.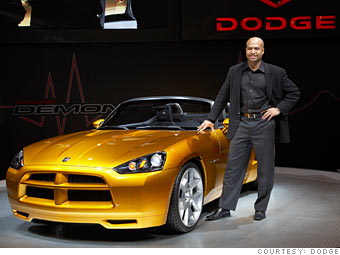 He probably just wanted to keep them all to himself.
Since Penske's announcement that it would not retain Dodge as its manufacturer after the 2012 season, the company could not find any suitable drivers or teams to put in one of its cars. ESPN NASCAR analyst Ray Everham made an outstanding point, saying that if a manufacturer is not competitive, it can do as much damage to the brand as not being involved at all. This is a spot-on realization for sponsorships of all sports because not all companies realize this before they throw money at a property.
Since its return in 2001, drivers in Dodge cars won a total of 55 races, including two Daytona 500s and a NASCAR Nationwide Series Championship by Keselowski in 2010. Ryan Newman, Kasey Kahne and Kurt Busch won 12, 11 and 10 races, respectively, in Dodges in the past 12 years. Although their return to NASCAR has hardly been a failure, the future looked bleak for Dodge and they made a tough, yet correct, decision to get out before they did any real damage to the brand.
Not physical damage, you dingus.
In an official statement by NASCAR Chairman and CEO, Brian France, he said that he hopes Dodge "again will choose to return to NASCAR at a later date." It is unfortunate that Dodge is leaving before the new car designs of 2013, but it will be sure to breed even greater competition between Chevrolet, Ford and Toyota on and off the track.
Yeah, try to keep it on the track.
Enjoy your trip back to I-95 and I'll see you next week!