When you think of player agents in sports, there are probably two major names that pop into your head: Scott Boras and Drew Rosenhaus. Both are polarizing figures, but both reel in the big name, big money, franchise defining talent. Boras has quickly become the New York Yankees of sports agents, and it is fitting that they share the same sport. Many love to hate Boras just as everybody that is not a Yankees fan loves to hate the Evil Empire. I mean, come on now, it is tough to look past Boras extorting your beloved team with nine-figure contracts for guys that do not seem too much better than the minimum pay rookies.
The love-hate relationship that we all have with Boras made just about everybody snicker a bit on Tuesday when Yankee's second baseman Robinson Cano dropped Boras. In a contract year no-less. It was a head-scratching move especially when taking a peek at Boras' list of wealthy (deservedly and undeservedly) clients. Names like Prince Fielder, Alex Rodriguez, Stephen Strasburg, and Daisuke Matsuzaka just to name a few.
But wait, Cano leaving Boras was not even the biggest headline of the story. It is that Cano is leaving Boras for [drum roll, please]...
Jay-Z?
Yes, the co-founder of Roc-A-Fella Records, the husband of Beyonce, and the part-owner of the Brooklyn Nets (among countless other things) is venturing into the player representation space. With Cano under his belt, Jay-Z is off to a great start with the agency that will be branded Roc Nation Sports.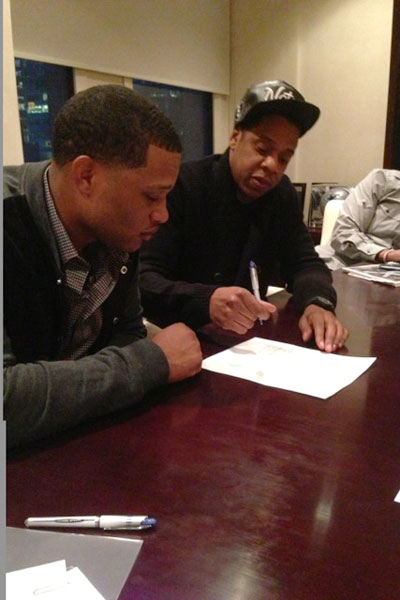 A little skeptical? As was I. We have seen rap/media moguls attempt to make a name for themselves in this space before and fail. Master P represented former University of Texas and NFL running back Ricky Williams after poaching him from the hands of now ESPN Business Analyst Andrew Brandt. In addition to drafting what is known as one of the
worst professional sports contracts of all-time
, Master P had no backing with his "agency."
This is where Jay-Z makes all of the right moves. Roc Nation Sports is backed by Creative Arts Agency (CAA), one of the highest powered sports agencies in all of sports with a multi-sport base and also clients in entertainment as well. Strategically, Jay-Z aligning his agency with CAA is the best move possible.
It will be interesting to watch and see where Roc Nation Sports goes from here. There have also been reports that New York Giants wide receiver
Victor Cruz
is set to join Roc Nation Sports. If they would want to venture into the professional basketball landscape, then Jay-Z would have to sell off his ownership piece of the Brooklyn Nets because otherwise it would be a major conflict of interest. Landing the likes of Cano and Cruz is solid starting point for Roc Nation Sports and with the backing of CAA, look for Jay-Z to land some more big names in the future.