How bad is your favorite team? Maybe they are really bad or, if you are lucky, maybe they are really good. They could also fall somewhere in the middle – like toiling between the eighth and ninth spot of the NBA playoffs every year middle – but fans are too emotional to ever admit being in the middle.
For years the Pittsburgh Pirates were one of those teams that were really bad. Really, really bad. Just ask
Bryan Fyalkowski
who used to write the
Route 30 Detour
for us. A tortured Pirates fans for all of his years on earth, the years of losing certainly got to him.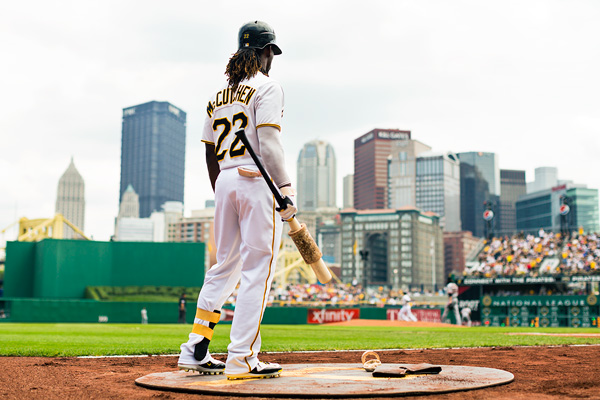 espn.com
But now, as of this very week, the Pirates are winners.
After 20 straight losing seasons
, the beloved Buccos have reached 81 wins meaning that no matter what they do the rest of the way they will finish .500. Just talk to a Pirates fan and you will see what it feels like to get a monkey the size of an entire city off your back.
The greatest news of all is that the Pirates have the framework in place to keep winning. Last year looking like the year that they were finally going to do it until a wretched final month and a half of the season derailed their chances. This season they finally did it, and they can do it again going forward.
At the core of the Pirate's recent success is All-Star outfielder Andrew McCutchen. McCutchen is only 26-years-old and is working off of one the most team-friendly contract in all of baseball after signing a
6-year $51.5 million extension
prior to last season. "Cutch" has also been able to keep his name in the National League Most Valuable Player discussion for the last two years, going for 31 home runs, 96 RBI, and a .327 average last year followed by 18 home runs, 75 RBI, and a .320 average through 135 games this season.
Even though he plays in Pittsburgh, McCutchen is marketable as well. He has a notable endorsement with
EvoShield
, a company that makes protective athletic gear such as McCutchen's shin guard. He is most known, though, for his appearance on the cover of the popular video game
MLB 2013 The Show
.
Most importantly, in this day and age when the actions of athletes are often overblown, McCutchen has managed to stay away from it all. Keeping a clean image in the current social media ultra-microscopic climate is essential and something that McCutchen recognizes which helps to boost his approval amongst fans and endorsers alike.
It is difficult for an MVP caliber player on-the-field to be just as effective off-the-field, but McCutchen is doing just that. Now that the Pirates have broken the 20-pluc year curse, McCutchen's marketability will continue to climb and he will continue to put Pittsburgh on the baseball map.