I know, I know. This is usually a space reserved for professional sports, not "amateur" sports. However, some of the so called "amateur" sports make money. A lot of money, to be somewhat exact. But happens when you try to up the jig when the jig is already up? Well, you get this little organization called the NCAA.
Throughout the offseason, the media has become fixated on Johnny Football. Really it's quite graphic. They seem more willing to talk about Johnny's tendency to
sip a Stella Artois
than Johnny's tendency to win football games and, you know, the Heisman trophy. It doesn't even matter that Johnny's last name is actually Manziel
- errr, I think - and that Johnny Manziel is human being.
Nope, he's just a recently felled carcass ripe for the feasting.
That's why when paired with his recent run-in with the egregiously overbearing NCAA rule book, I still kind of feel bad for Manziel. Yes, he broke a rule (read: a stupid rule) by allegedly
accepting money for autographs
. And yea, breaking rules is bad. But sometimes it takes somebody of Manziel's stature to show us how bad the rules really are.
(
Related: No matter your view on Manziel, Wright Thompson's take on Johnny Football is worth your time.)
One of the angles that has been taken by some, ahem, journalists has been focused on Manziel's family money. Why does Manziel need the money if his family is already filthy-oil-rich? [*Checks current location; still in America*] If the same, ahem, journalists are so outraged by Manziel's greed, then maybe they need to take a quick look around our countries landscape and realize greed's prominence in our culture. Whether you believe that to be right or wrong, it's omnipresent nonetheless.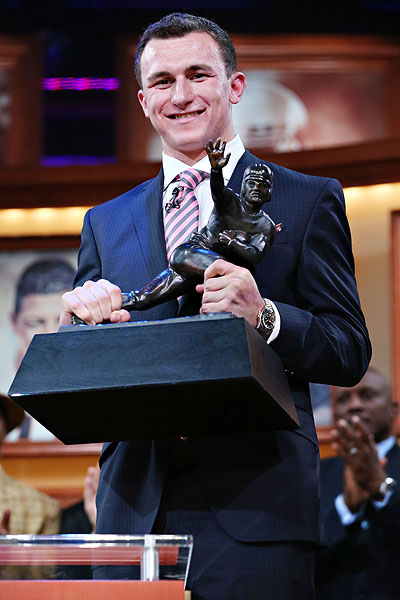 Johnny Manziel is only eight months removed from taking home the
Heisman Trophy, but his world has been turned upside down. (ESPN)
Anyway, back to the real point here. Manziel's alleged actions show a major injustice within the NCAA rules. Sure, many of us knew that these injustices existed, but maybe some of us needed a little reminder by perhaps the most famous and polarizing college athlete of right now getting caught in one of those infamous unjust NCAA scandals.
Check.
How much longer can the NCAA hang on to its profit-mongering ways? The O'Bannon case is in full swing, and the case by the current and former players involved is looking stronger and stronger by the day. Certainly not helping the NCAA's case is that the public perception of the organization tanks every time it goes after a player or botches one of its one investigations.
Perhaps one of the most obvious examples of NCAA profiteering is in its jersey sales. Year after year, the NCAA sells jerseys from each of the schools and with certain numbers and no names (
obviously
). However, the numbers
just so happen
to match the numbers of the prominent and most popular players at each school. Hmm, something seems a bit too fishy here. Do you really believe that the No. 2 Texas A&M jersey hanging in the window of your local sporting goods store isn't Johnny Manziel and it
just so happens
to be a randomly selected number?
Right. It almost feels like our intelligence is being insulted.
Well, ESPN college basketball analyst Jay Bilas was tired of his intelligence being insulted by the all-to-convenient jersey numbers (
he's a lawyer too, so we know what happens when you insult them
).
On Tuesday he took to Twitter and NCAAShop.com. Over a
series of tweets
throughout the day, Bilas tweeted out screenshots of what comes up when you search certain players in the site's search bar. Needless to say, the results were astounding.
You can
check out his timeline
to see for yourself. My personal favorite was when he search for former LSU safety Tyrann Mathieu, the same Tyrann Mathieu that had been SUSPENDED by the NCAA last season for failed drug tests, and his jersey still came up.
Notwithstanding his suspension, NCAA still sells Tyran Mathieu, searchable by his name, on http://t.co/qpH4tNnIpH. pic.twitter.com/FtN3Y0NLQD
— Jay Bilas (@JayBilas) August 6, 2013
Later in the day, the NCAA
disabled the search feature
on the site.
Bilas's work completely undermines the NCAA's spoken stance on the issue. They are defending themselves in the O'Bannon suit partially under the idea that a No. 2 Texas A&M jersey is simply a No. 2 Texas A&M jersey and not a Johnny Manziel jersey. Getting off on the technicality that there is no name on the back looses its footing when you can find a No. 2 Texas A&M jersey on NCAAShop.com by entering "Johnny Manziel" in the search bar.
As the NCAA continues investigating the case against Johnny Manziel, remember that the NCAA has also racked up quite the case against themselves. The hypocrisy is as transparent as ever and widespread change seems to be on the doorstep of college athletics. If there's one person that knows all about the NCAA hypocrisy it's Johnny Manziel because we all know that he didn't earn the nickname Johnny Football by going to math class.
Follow Kevin Rossi on Twitter @kevin_rossi.